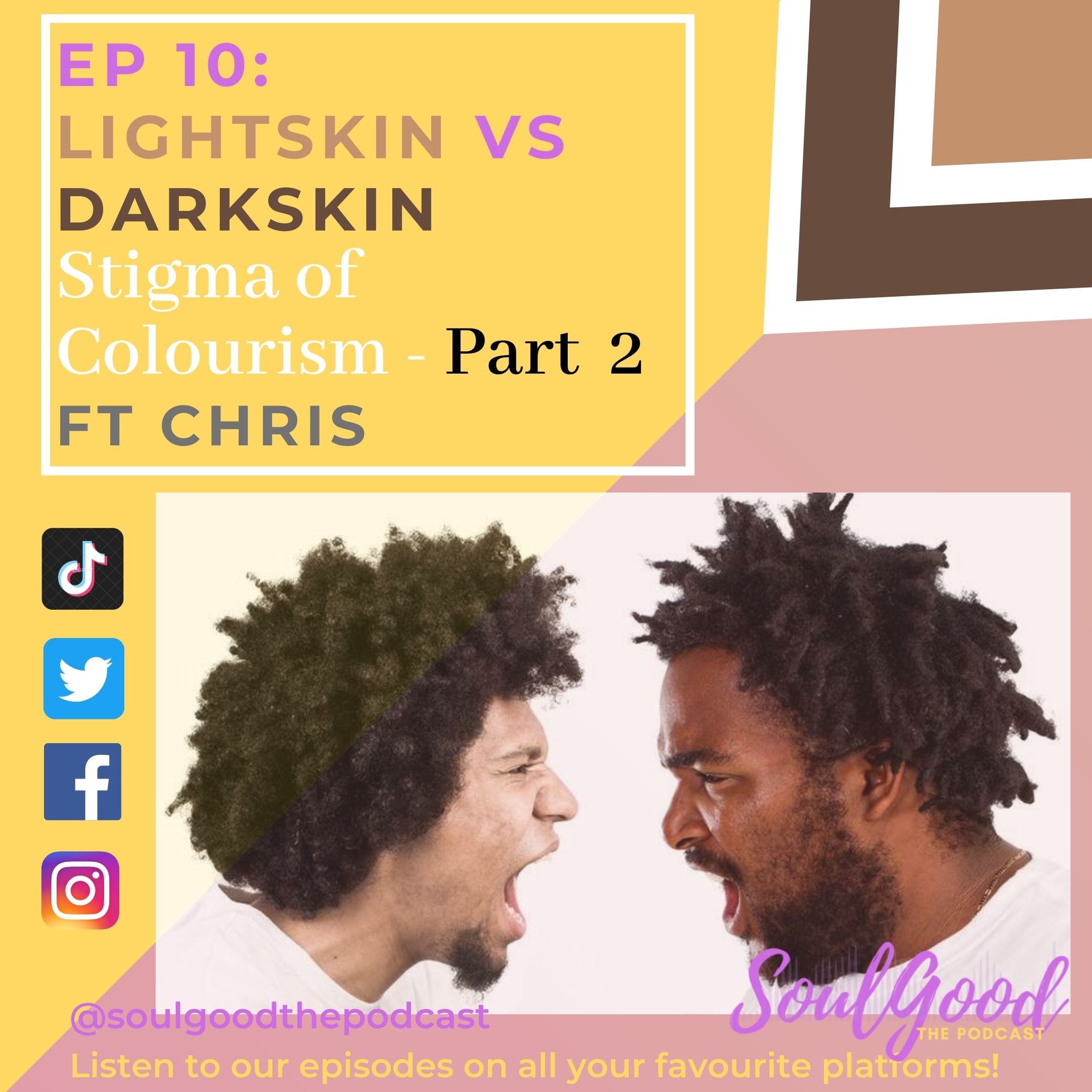 Hey SoulNation!! 
Guess who's back in the studio to give us some more opinion on the topic at hand. Lightskin vs Darkskin!
Has society robbed the darker tones of the love we always deserved? Do you find light skin gangsters are more scary than darker skinned gangsters? How has the media changed in the recent years on pushing the agenda of breaking the segregation between shades of black people? Does your environment enforce your dating and life decisions? Do you know people who only date a specific race?
We talk about wonderful black actors, director and creators that speak out for our black community! & talk about old shows on BET while we're at it! We talk about it all on this episode. 
Join us for a good game of Kill, Marry, Sex, & we review a new soulgood song the week! 
Let's go!! 
Share, Comment & Follow Us! 
Follow Us On:
Website/Links - https://msha.ke/soulgoodthepodcast
Instagram - SoulGoodThePodcast
Twitter - SoulGoodTP
Facebook - SoulGoodThePodcast
TikTok - SoulGoodThePodcast
Email: soulgoodthepodcast@outlook.com
SONG CREDITS:
Song: Welcome to SoulGood The Podcast - Simplicitee. 
Song of the Week: Champions - Orlando Robankah Ft Leo Noir https://www.youtube.com/watch?v=lyjfEfvNc3U
Follow them on instagram! And listen to their podcast as well! 
https://www.instagram.com/orlandorobankah/
https://www.instagram.com/leonoirrcollection/
https://www.instagram.com/themandontcarepodcast/
Background Music: It'll be Alright - R.LUM.R
FAIR USE STATEMENT
This page may contain copyrighted material the use of which has not always been specifically authorized by the copyright owner. Most of the time, however, we give credits to the author of quotes, photos and other related materials. We sourced these materials from various internet sites, in an effort to advance understanding of environmental, political, geographical, anthropological, biological, human rights, economic, democratic, scientific, cultural and social justice issues, etc.
We believe the use of materials on this site constitutes a 'fair use' of any such copyrighted material (referenced and provided for in section 107 of the US Copyright Law). In accordance with Title 17 U.S.C. Section 107, the material on this site is distributed without profit to those who have expressed a prior interest in receiving the included information for research and educational purposes. (For more information go to: http://www.copyright.gov/fls/fl102.html)
If you wish to use any copyrighted material from this site for purposes of your own that go beyond 'fair use', you must obtain expressed permission from the copyright owner. If you are the owner of any copyrighted material and believe the use of any such material does not constitute "fair use", please contact us, so we can make proper corrections, and ultimately, take it off the post, if proven necessary.